Clever thinking… for best offers!
Clever thinking: book direct with us and get the best offers! When you book on the official Saint-Samson Golfhotel website or on Brit Hôtel website, you'll benefit from exclusive offers, promotional packages, best deals, early booking rates, last-minute availability and perhaps, even a free breakfast. Why? Because Brit Hotel doesn't take any commission from its subscribers, so we're happily able to offer our guests the best possible prices when booking direct rather througs another site. Get more for your money!
Golf, gift ideas, packages for someone special, or for yourself, because you deserve it! * We are currently creating some new offers and packages. Watch this space!
Rates through the year and Direct booking service
---
HOTEL DEALS
Early Booking March
Direct booking

Book your stay at least 10 days ahead and you'll save:
15% on your room during the week
30% at the week-end!
No cancellation, non-refundable. The whole amount will be charged when you confirm your booking. Valid only through our official website after 05/03/16

Easter Holidays
Direct booking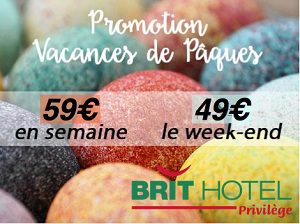 59€ per room during the week
49€ on week-end
in a single or double room!
Valid for breaks between 02/04/2016 and 02/05/2016 inclusive, on a limited number of rooms. This booking cannot be cancelled or refunded. The total amount will be taken upon booking confitmation. Online booking offer only from our official website.

Pink Granite Coast & Cité des télécoms

Direct booking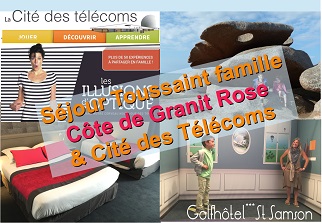 Family special – 2 Days & 1 Night in a Comfort Family Room, including breakfast plus a ticket to the Cité des télécoms for each guest – Valid 19/10/2016 to 02/11/2016
The Cité des télécoms: 3000m² of games and exhibitions all about how telecommunications have evolved over the years, from underwater communication to way out in space. Exhibition "Space, what a story", 3D cinema, light and sound show, old space  station sheltered under a giant bubble and plenty more!

The Pink Granit Coast and it's majestic pink rocks… Make your way around the spectacular coastal path known as the Costums Officers' Trail, stopping at Ploumanac'h, which was voted France's favourite village in 2015! Go up to the lighthouse and statue of St-Guirec, and let yourself get carried away by the natural beauty of this enchanting Breton coastline!
---
Golf & hotel – Gifts and packages for someone you love, or because You deserve it!
---
Golf & Relaxation Package:
2 people, 6 nights
Book Golf & Relaxation Package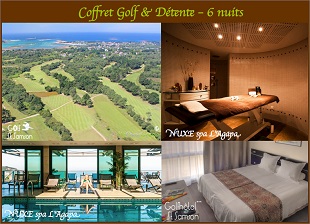 528,25€ / person
448,75€ /person
Valid: September 1st – October 31th 2016
– Official Site

On arrival: a complimentary aperitif at the bar "Le 19"
Accomodation: 6 nights in a Comfort Double Room at the three-star St-Samson Golf Hotel including breakfast for two people.
Meals: a gourmet meal for two including a 1/2 bottle of champagne to enjoy with your meal or in your room.
Golf: Three 18-hole green fees for one of the guests, loan of a golf caddy, branded golf ball and a free golf course booklet.
Relaxation: Two relaxation treatments at the 5-Star Spa Nuxe L'Agapa in Perros-Guirec, followed by time to enjoy the well-being suite for the rest of your half-day visit.
3 nights for the price of 2:
Golf + Hotel & Breakfast
Book 3 nights & pay 2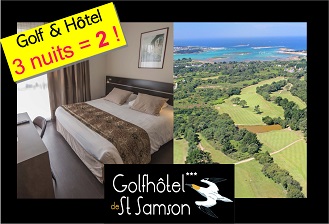 104€ / person for 3 nights (instead of 156€) !
Valid : October 1st to October 2016
– Official site
This package includes:
Golf: Three 18-hole green fees for either of the guests, and a complimentary branded golf ball.
Accomodation: 3 nights in a Comfort Double or Twin Room with shower at the three-star St-Samson Golf Hotel including tea and coffee facilities.
Buffet breakfast for two people in the breakfast room with panoramic views or in the restaurant (depending on the season).
Total price for 2 people: 208€ (instead of 312€) !
Business Stopover breaks from 89€ per Night
Special Conditions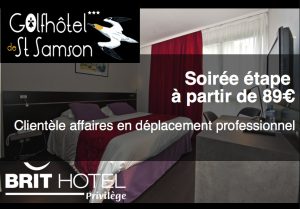 For professional guests and those travelling on business.
* Special conditions
This business rate is exclusively available to business people, sales people, professionals, contractors and sales representatives, on presenting a valid card (such as a company credit card). It includes:
a three-course evening meal (excluding drinks)
accomodation in a single room
breakfast
HOW TO BOOK?
Give us a call!
+33 (0) 02 96 23 87 34

---
SPECIAL GOLF RATES FOR HOTEL GUESTS
---
Are you staying at the hotel? In that case, you'll be given preferential rates on individual 18-hole Green Fees throughout your stay! Contact us on +33 (0)2 96 23 87 34 to book.
INDIVIDUAL


Green fees

2017




for

Hotel guests


price per person

Low Season
(01/03 to 30/04 & 01/10 to 18/11)
High Season (01/05 to 04/07  & 17/08 to 30/09)
& Peak Season (05/07 to 18/08)
Adult
Junior
Student
Adult
Junior
Student
Regular price
37 €
19 €
27 €
60 €

30 €

40 €

1 Greenfee

-25%

28 €
14 €
20 €
45 €
23 €
30 €
2 Greenfees -30%
52 €
27 €
38 €
84 €
42 €
56 €
3 Greenfees -40%
66 €
34 €
49 €
108 €
54 €
72 €
hire of 1/2 set of golf clubs:
10,00€
Club hire:
2,50€ per club
Driving range token:
3€ (25€ for 10)
---
---
GIFT IDEAS – SUGGESTIONS
Here's an idea for a truly flexible present that will delight even the most discerning recipient! Offer a gift-card to use at the Golfhotel, the bar-restaurant "Le 19", the golf course, the Proshop or even golf lessons and courses. Contact us to find out more and receive your gift card in the post!
Contact-us!
by telephone : +33 (0)2 96 23 87 34
by email : contact@golfhotel22.fr
Onsite at the Golf Hotel:
Hire servicefor electric bikes


Outdoor swimming pool (min. 22°) du 15/06 au 15/09

Tennis courts


An 18-hole golf course

The GR34 coastal path

Meeting and Function Rooms
Bar-Restaurant:
Bar & ClubHouse

Restaurant Le 19 (season)

Snacks

Packed lunches (on request)

Reception rooms

Hotel:
Non smoking

Lift

Bagagerie

Luggage room

A safe at reception

Lounge area and children's area

Computer area

Photocopier, fax

Free WiFi

Services:
Newspapers at the bar

Iron and ironing board (ask at reception)

Baby-changing table

Cot (on request and depending on availability)

Extra beds, 7€ supplement (on request and depending on availability), not available in Twin or Double comfort rooms.

Emergency kits available at reception (tootbrush, shaving set, sewing kit)