The Saint-Samson Golf School
We are sorry: this page is on work… Meanwhile, you can get the infos actualized on the french version of this site. Thank you, and don't hesitate to contact us by phone or mail!
From September to June, the Saint-Samson Golf Course welcomes children, aged 4 to 18, at our Golf School held on Wednesday afternoon and Saturdays.
Our pro golfers, Patryk Lescastreyres & Jean-Dominique Savidan, applies their teaching skills to enable all youngsters to develop their golf potential, using an approach that is both technical and enjoyable. We are also fortunate enough to have several volunteers at the St-Samson, and their support is invaluable in helping youngster to get out on the course in complete safety.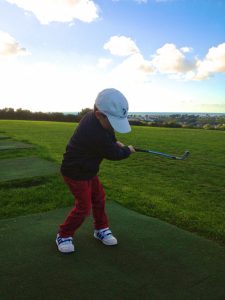 "For youngsters, the Golf School is a place for training and also for putting everything into practice, whether as a hobby or for competitions.

The aims of the Sports Association are that each player learns to love playing golf, in an atmosphere of camaraderie and sportmanship, progressing at his or her own pace, gradually adopting the main values that are conveyed by our sport."

– The Saint-Samson Sport Association
Aims
To acquire knowledge (techniques and rules),
To understand and master the expected behaviour (respecting other players, respecting the course, the etiquette of the game),
To play on the course for pleasure and for the challenge of the game.
Methods
Theory input,
Training on the practice range and on the course,
Events and activities (achieving various "flag" stages, being coached on the course by seasoned members of the association, getting your first rankings in competitions),
Individual and team competitions. The area commitee organises a mini-tour of golf courses int the Côtes d'Armor area, allowing youngsters to rise to the challenge. Depending on their level, they can take part in local, regional championships.
---
Lessons
Lessons are given by qualified golfing professionals and other events are led by members of the Sports Association, offering a rounded approach to training (accompanying and coaching learners on the course, marking progress by achieving "flags" and getting their first handicap index). Those aged 15 to 18 are split into different groups according to their age, golfing level and aims (recreational, competitive and so on).
2017-2018 Groups & Schedules

Youngest -under 10
  Acquisition of technical fundamentals, rules, "savoir-être" + golf flag passage to mark the golfing achievements
  Saturday from 10am to à 11am /or Wednesday, from 14h30 to 15h30, or 15h30 to 16h30

Golf for All
  Improve your golf and play on the course
  Saturday, from 11am to 12am

Competitors


 

Improve your golf, play on the golf course & take part in some competitions  (Under 13 years old)
  Wednesday from 3pm to 4pm

Elite


 

Improve your index, and competitions (for players whose index is lower than 20)
  Wednesday from 2pm to 3pm  'and/or' Saturday, from de 10am to 11am
Calendar de l'École de Golf (AS)

Annual fees

Under 10 : 1h lesson /week : 190€ per year


The annual fee for the Golf School includes:

lessons from the instructor in school periods

1 hour a week of events led by members of the Sports Association (getting their "flags", competitions, coaching on the course)

the golf licence

membership of the Golf Sport Association

temporary loan of equipment (bags, clubs) during the first three months


10 to 18 years old 1h lesson / weeks: 240€ per year

Competitors

2h lesson / week/ 330€ per year

*Golf course option

Preferential rate of 11O€ for a one-year-access to the course, outside the usual hours of the Golf School lessons.



Find more about the Saint-Samson Golf School
To find more about the Saint-Samson Golf School, follow some news & results, read some practical documents, etc, here you'll find some useful links:
Youth Commission


Bernard Bec

Person in charge


Jean-Dominique Savidan

Golf Pro


Patryk Lescastreyres

Golf Pro


Johann Le Vot

Director Golfhôtel de St-Samson

Richard Laborde

President Association Sportive
Onsite at the Golf Hotel:
Hire service for electric bikes


Outdoor swimming pool (min. 22°) du 15/06 au 15/09

Tennis courts


An 18-hole golf course

The GR34 coastal path

Meeting and Function Rooms
Bar-Restaurant:
Bar & ClubHouse

Restaurant Le 19 (season)

Snacks

Packed lunches (on request)

Reception rooms

Hotel:
Non smoking

Lift

Bagagerie

Luggage room

A safe at reception

Lounge area and children's area

Computer area

Photocopier, fax

Free WiFi

Services:
Newspapers at the bar

Iron and ironing board (ask at reception)

Baby-changing table

Cot (on request and depending on availability)

Extra beds, 7€ supplement (on request and depending on availability), not available in Twin or Double comfort rooms.

Emergency kits available at reception (tootbrush, shaving set, sewing kit)