Equestrian centers very close to the Golf Hotel, on the Pink Granit Coast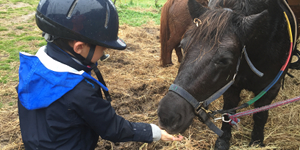 Is your family fan of ponies and horses?
Then you'll be happy to benefit from the proximity of many riding centers close to the Hotel. One of them is just 500 meters away from the Saint-Samson Golf Hotel!
Most of them offer riding lessons, courses or stunning horse rides on the Pink Granit Coast, between beaches and countryside. Unforgettable memories for all your family. Your camera will be essential!
Here you'll find some information about the Equestrian Centers nearby

École d'Équitation Saint-Samson

École d'équitation No2 Crech Moustero, 22560 Pleumeur-Bodou

+33 (0)2 96 23 40 14


Less than 10 minutes walk from the Saint-Samson Golf Hotel,
or 1 minute by car!


Rulan Poney Club

https://rulan-equitation.ffe.com

+33 (0)6 73 08 97 84

Poney Club de Rulan, Route de Lannion, 22730 Trégastel


Trégastel Equestrian center -Club Hippique de Trégastel

www.equitation-tregastel.com

+33 (0)2 96 23 86 14

13 Route du Calvaire, 22730 Trégastel

8 minutes from St-Samson Golf Hotel

Équi Nature Bretagne

+33 (0)6 34 68 02 36

Chemin du Conté, 22560 Pleumeur-Bodou




Lannion Équitation

32 Crech an Taro, Beg Leguer, 22300 Lannion

+33 (0)6 88 41 33 55